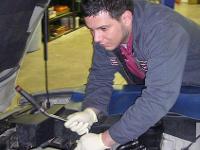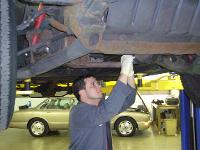 Awards:
Dealership of Course
Manassas' Choice for Major & Minor Auto Repairs
On All Foregin and Domestic!
| | | |
| --- | --- | --- |
| | Auto Repair Shop: Vehicle Maintenance • Towing | |
Preventative Maintenance from our Auto Repair Shop
Complete Auto Center is Located at:
10327 Piper Lane Manassas Virgina 20110 | #703-331-0444

Here at Complete Auto Center, We welcome our customers with open arms. We are a family owned business serving you with the up most respect and honesty. We want our customers to have peace of mind when they come to Complete Auto Center for complete auto repair, including transmissions, engine diagnostics, oil changes, preventative maintenance, brakes, starters, alternators, timing belts, batteries, electrical work, etc. Call our auto repair shop for the best auto services in Bristow and Manassas, Virginia. We also provide a towing service.
Upscale technology, hands-on training, and Universal Technical Institute (U.T.I.) college educations are why our ASE certified technicians are highly proficient at accomplishing any job. Visit our auto repair shop in Manassas, Virginia, for preventative vehicle maintenance and repairs including brakes, transmissions, and engine diagnostics.
Preventative Maintenance
Complete Auto Center offers free estimates for preventative maintenance. We look at your vehicle from bumper-to-bumper and inform you of all the maintenance that needs to be done. Our technicians provide regular tune-ups on all foreign and domestic vehicles as well as oil changes—lube, oil, filter services, brakes, starters, alternators, timing belts, water pumps, shocks/struts, fuel and induction service.
Complete Auto Center uses Mitchell1 Diagnostic Software Tools for Quality Repairs, as well as Factory Schedule Preventative Maintenance. With each oil change, Complete Auto Center technicians will check the following: Brakes, fluids, filters, belts, under body structures, muffler systems, & tire rotations.
Aside from the minor work, we also perform transmission repairs as well as engine replacements & diagnostics.
We pride ourselves in the extensive knowledge of A/C and Cooling System repair. Summer is right around the corner, bring your vehicle to the experts at Complete Auto Center for full-service on your air conditioning system.
Services:
Brakes

Auto Services

Starters

Alternators

A/C

Preventative Maintenance

Transmission Work/Repairs

Engine Diagnostics

Electrical Work

Injector Services

Shocks & Struts

Electrical Diagnostics

Oil Changes

Mufflers

Exhausts

Engines

Timing Belts

Batteries
Featuring B/G products!
Let Us Take Care of Your Automotive Needs Today!!
auto repair shop, auto repairs, preventative maintenance, brakes, transmission, starters, safety and state inspections, alternators, a/c, oil changes, muffler, engine, transmission repair, engine diagnostics, electrical, timing belts, Injector service, automotive coupons, shocks, struts, Towing & all general auto services
Come to our auto repair shop to save money—we can beat anyone's prices.
Complete Auto Repair, Transmissions, engine diagnostics, bristow, auto services, oil changes, Auto Repair Shop: Preventative Maintenance & Repairs - Manassas, VA, Brakes, Auto Services, Starters,Alternators, A/C, Work/Repairs,Diagnostics,Electrical Work,Shocks & Struts, Oil ChangesMufflers,Engines, Timing Belts, Batteries,
Hours of Operation:
Monday – Friday, 8:00 a.m. – 5:30 p.m.


Service Area:
Manassas City County • Warrenton
Manassas • Prince William Country • Bristow